Venue: Viskom, Vienna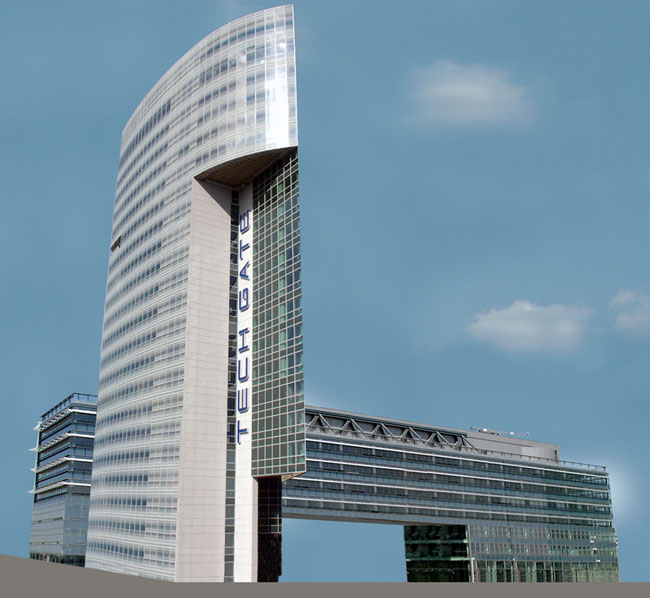 Location
Kommission für Wissenschaftliche Visualisierung - Commission for Scientific Visualization
Österreichische Akademie der Wissenschaften (ÖAW) - Austrian Academy of Sciences
Tech Gate Vienna
Donau-City Str. 1
A-1220 Wien
Austria
4th floor, first door to the left exiting the elevator Contact person:
Emanuel WENGER
Tel.: +(43) 1 51581-6702
emanuel.wenger@oeaw.ac.at
How to get there
Check the Viskom's location ...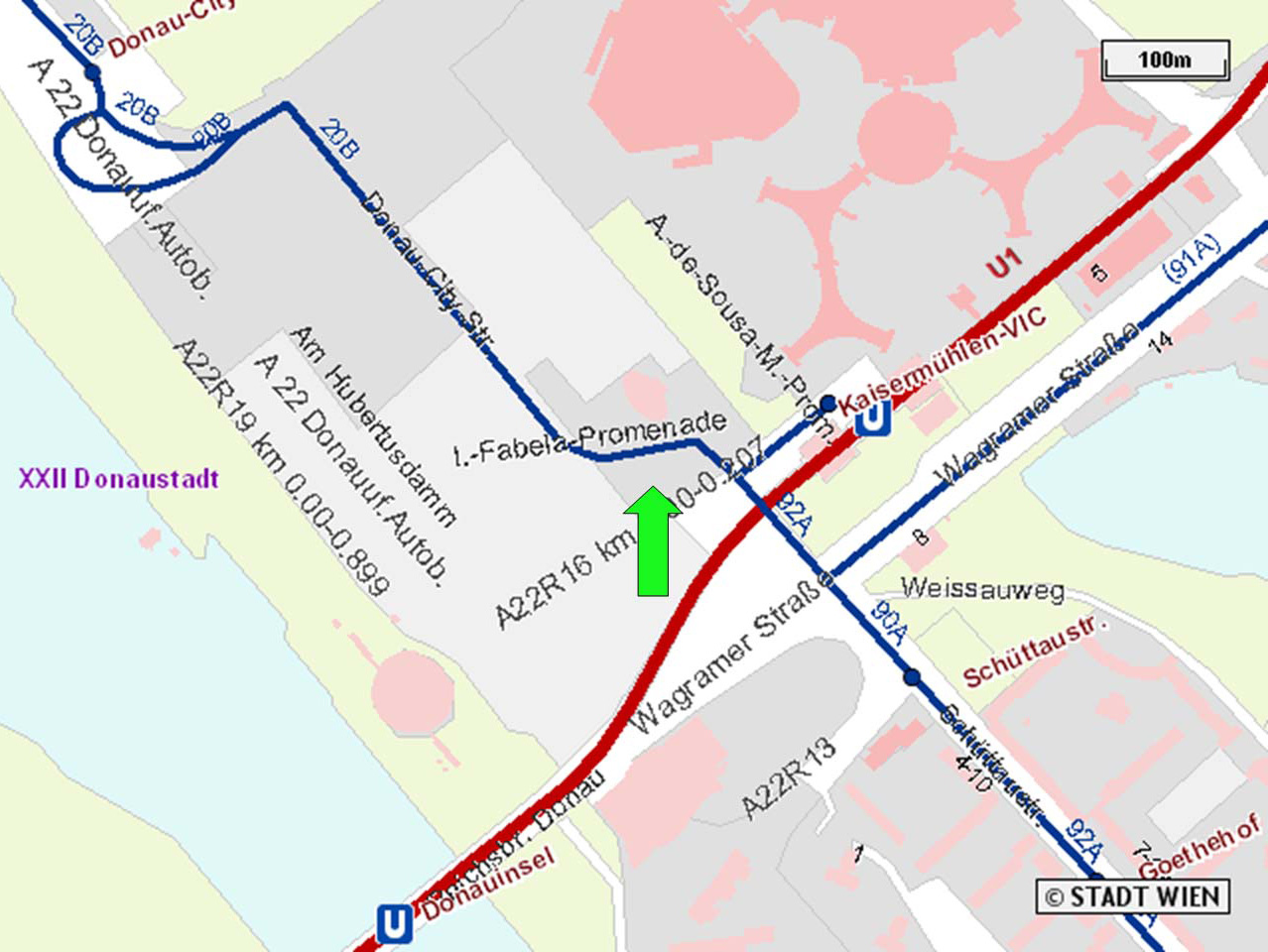 ... and read the
directions
how to get there.
Need a taxi from/to the airport? Call Airport Taxi Edi, 1-2 hours before, at +43 699 81 64 24 94.
Hotels
Hotel list with special conditions for the Austrian Academy of Sciences (ÖAW):
Please check rates in the internet, somethimes these are cheaper than the special rates
for the Academy. Prices are on the basis of 2006. All of these hotels are close to the VISKOM.
Pension Riedl
Georg Coch Platz 3
A-1010 Wien
Tel. +43 1 512 7919
http://www.pensionriedl.at
E-Mail:
pension.riedl.wien@aon.at
Hot to get there:
Map
Hotel Post
Fleischmarkt 24
A-1010 Wien
Tel. +43 1 51583-0
Fax +43 1 51583-808
http://www.hotel-post-wien.at
E-Mail:
office@hotel-post-wien.at
How to get there:
Map
Hotel Nordbahn
Praterstraße 72
A-1020 Wien
Tel. +43 1 211 30-0 Fax +43 1 211 30-72
http://www.hotel-nordbahn.at
E-Mail:
info@hotel-nordbahn.at
How to get there:
Map
Pension Residenz
Ebendorferstraße 10
A-1010 Wien
Tel. +43 1 4064 7860
Fax +43 4064 78650
http://www.resicenz.cc
E-Mail:
info@residenz.cc
How to get there:
Map
Hotel Wandl
Petersplatz 9
A-1010 Wien
Tel. +43 1 534 550
Fax +43 1 534 5577
http://www.hotel-wandl.com
E-Mail:
reservation@hotel-wandl.com
How to get there:
Map
Hotel Kummer
Mariahilferstraße 71a
A-1061 Wien
Tel. +43 1 588 95-0
Fax +43 1 587 81 33
http:/www.hotelkummer.at
E-Mail:
kummer@austria-hotels.at
How to get there:
Map
Hotel Prinz Eugen
Wiedner Gürtel 14
A-1040 Wien
Tel. +43 1 505 17 41
Fax +43 1 505 17 41-19
http://www.hotelprinzeugen.at
E-Mail:
prinzeugen@austria-hotels.at
How to get there:
Map
Hotel Alpha
Buchfeldgasse 8
A-1080 Wien
Tel. +43 1 403 52 91
Fax +43 1 403 52 91-62
http://www.hotelalpha.at
E-Mail:
alpha@austria-hotels.at
How to get there:
Map
Pension Stadtpark
Landstraßer Hauptstraße 7
A-1030 Wien
Tel. +43 1 713 31 23
Fax +43 1 713 31 23-4
http://www.pension-stadtpark.at
E-Mail:
rezeption@pension-stadtpark.at
How to get there:
Map
Stephanushaus
Ungargasse 38
A-1030 Wien
Tel. +43 1 717 03
Fax +43 1 717 03-812
E-Mail:
stephanushaus@netway.at
How to get there:
Map
No discount for OEAW, but central and quiet:
Hotel Kärntnerhof
Grashofgasse 4
A-1011 Wien
Tel. +43 1 512 19 23
Fax +43 1 513 22 28 33
karntnerhof@netway.at
http://www.karntnerhof.com
How to get there:
Map
--
SandraHodecek
- Jan. 12th, 2007
Show attachments
Hide attachments